Steak and Jake Midnight March
INSTRUCTIONS: Use your mouse and follow the in-game instructions.
Steak and Jake Midnight March
Brilliant Puzzle / Skill Game by Flipline Studios.
Now before you start playing, just make sure you read this, because the first impressions of the game will be confusing and you might even try closing it without knowing what you're missing. To make it easier for you to understand, Steak and Jake: Midnight March is a mix of several genres and mix of several games; like for example Lines (Microsoft) + Bubble Shooter and also mix of Puzzle / Skill genres. This game is actually quite good to train your brain and it's highly recommended for kids. More you play Midnight March, you're quick responses and fast thinking improves as well as  paying attention to details and calculations.
How to Play Steak and Jake Midnight March
Rules and Tricks
Try not paying much attention to your characters which by the way look somewhat strange, guess those 2 cows belong to undead race but not important and doesn't affect the gaming process in anyway. What's important is to understand the game interface and actions you need to take in order to win.
Bubble Lines
See the colored bubbles in the middle of your game interface? That's the most important part of the game. You don't control characters, they keep moving no matter what you do. Your task is to clear the way for characters by removing and avoiding obstacles, filling holes, destroying barricades etc. And the way to do that is to play "Lines"… First of all find 3 or more same color bubbles linked to each other and click it… by doing so you 1. Destroy the line and 2. Color the bird you control. Basically your bird will take the color of the balls you've just destroyed. Then find obstacles on the screen and click it to fill the holes or destroy barricades. More detailed info can be found inside the game, click "help" tab inside the game menu for full instructions.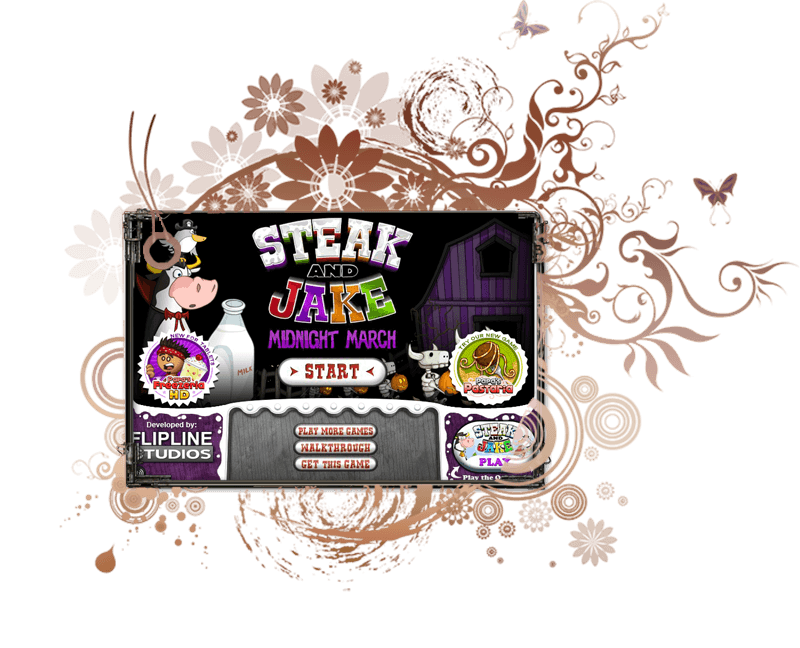 Steak and Jake Midnight March

,
Tags: flipline games, papas games