Mouse Only – Read Instructions Below or Go through the User-Friendly In-Game Tutorial
Rita and Marty in Papa's Burgeria – 2 characters you can choose from to run local burger restaurant Papa's Burgeria. Traditional "Flipline" intro and the very much familiar game interface is what you find in the game. Actually, people say all papa's games are similar in everything, except the ingredients and dishes you make; and at same point this is true; however, those familiar with all game series by Flipline will notice difference in this particular game. Besides the obvious difference which would be lack one of the game attributes there are few minor ones too, but we'll discuss it little later. Now, if you have played other games from papa's series, you'd notice 4 main attributes like for example in Papa's Freezeria game – extra one is all about decoration and toppings. In Papas Burgeria however, you don't get to decorate much. There are only 3 tabs in the game:
Order Station
Where you take orders from customers.
Grill Station
Where you cook the main ingredients, which is a burger and burger only.
Build Station
The part where you assemble the order, construct huge mass of an epic papa burger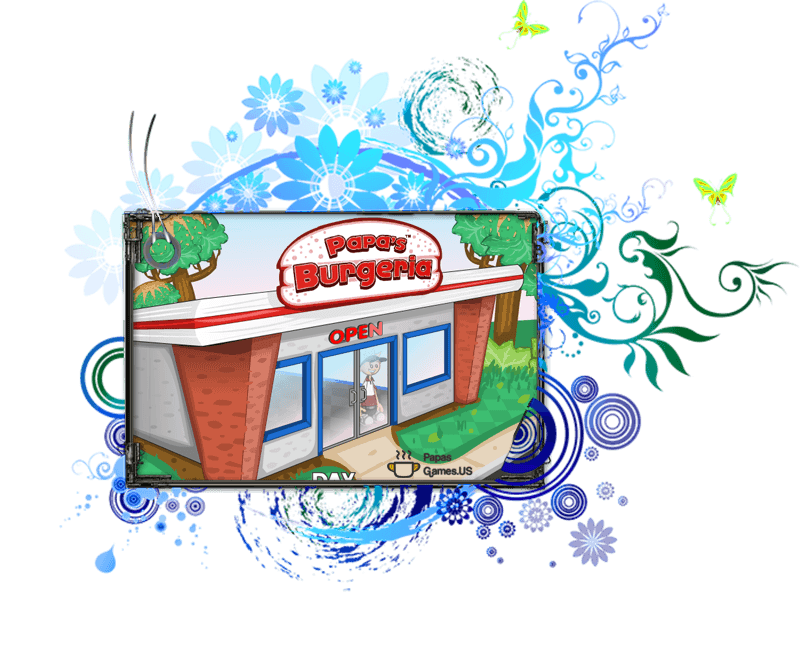 Seems too primitive and it kind of is, though it's easy to overlook the best thing about this game, it's simplicity is what makes it so much enjoyable: no complicated stuff, no confusing ingredients and other things that would kill all the fun in it. Papas Burgeria is a minimalistic cooking / restaurant management game to kill few hours and enjoy on every step of the way. As for the management and serving components in the game, they are practically no different from those in other games. Fyi. Burgeria is a primary and first sequel to the epic award winning game Papa's Pizzeria, the best game from the papa's series. Sit back and relax, enjoy playing burgeria and make sure you visit more awesome games from papas series.
Papa's Burgeria

,
Tags: cooking games, flipline games, papas games, restaurant games