Play Like Rest of the Papa's Games – More Instructions Can Be Found Inside the Game Interface
Beautiful cupcake crafting in one of the top games by Flipline Stuidos – Papa's Cupcakeria, the only game from the papa's games series close to Papa's Freezeria: No chicken wings, no messing with oils and vegetables, no pasta… Only sweats! Delicious cupcakes in Papa style. Go through the routine of character selection and game intro as usual or crate a character on your own and you will find yourself in a beautiful snowy town where Papa's Cupcakeria is located.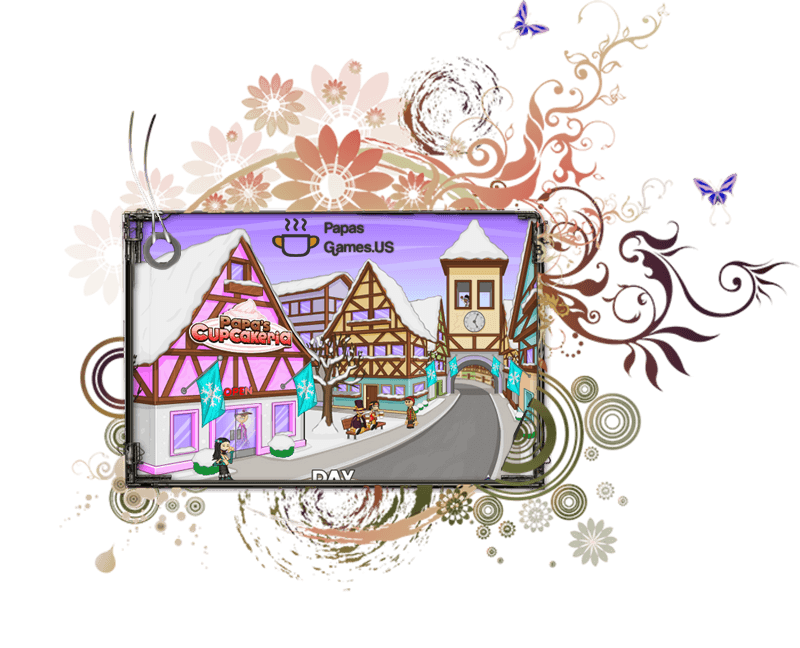 Ridiculous Amount of Cupcakes and That Kind of Stuff…
Here, we have a traditional Order Station, Bake Station Build Station and exclusive Batter Station where all the sweet stuff is going on. Smart interactive in-game tutorial will guide you through the entire process of how to bake, top cupcakes and how to serve customers. First thing to do is to take order from the eager customer and move on to the kitchen. After writing down the order, first thing to do is to visit batter station. It's simple, all you have to do is line the pan with baking cups that customer ordered (keep in mind there are different kinds of cups so you need a specific one, the order ticket will show which exactly.). Next step is to select a cake batter, also specifically ordered by the customer. Just click the mouse and hold the button to start filling a cup with batter, easy enough. When it's half-filled, release to stop filling, and don't overdo it. Done with both cups? Move on to the bake station and drag your cupcakes onto the oven, wait for cupcakes to bake and watch the timer on the oven, when it hits the line they are done. It is easy to mess up with baking and burn cupcakes so be very careful. Next stop is the build station. Time to add frosting to each of your already baked cupcakes, select the frosting your customer ordered but for the left cupcake first. Click on the left edge of the cupcake and start moving to the right to start frosting cupcake. Do the same thing with second cupcake and move on to the second frosting, add chocolate the way you did with milk shake. Add some candies and cherry on top. Second cupcake on needs some chocolate chips It's all very easy once you get used to it. Have fun and enjoy Papa's Cupcakeria.
Papas Cupcakeria

,
Tags: cooking games, flipline games, papas games, restaurant games