All Instructions Can Be Found Inside the Game; Follow The Tutorial To Learn How to Play Hot Doggeria
An opening day at griller stadium, all tickets are sold out, looks like it's going to be a busy day at Papa Louie's Hot Doggeria. Get to work by serving your very first customer – write down the order and grab the ticket, take it to the grill station and the interactive helper will show you how to make hot dogs. Drag a raw hot dog onto an empty spot on the grill to fry it. Each spot on the grill has a timer to show long to cook the meat. You'll see when it is time to turn it over and when the other side is done too, take the hot dog off the grill. Move on to the Build station, seems that your first customer wants relish on their hot dog, so click and drag the ingredient from the relish bin, release mouse above the hot dog. No hot dog without a mustard, drag the bottle of mustard above the hot dog and release to start pouring. Done with the hot dog but customer wants some drinks and popcorn so move on to the Pop Station: Customer wants a Fizzo pop – click the Fizzo button on the drink machine select a cup size and fill it up. Now it's time to prepare a buttered popcorn, click the button on the popcorn machine just like with Fizzo, fill it up and there you are ready to serve your very first customer.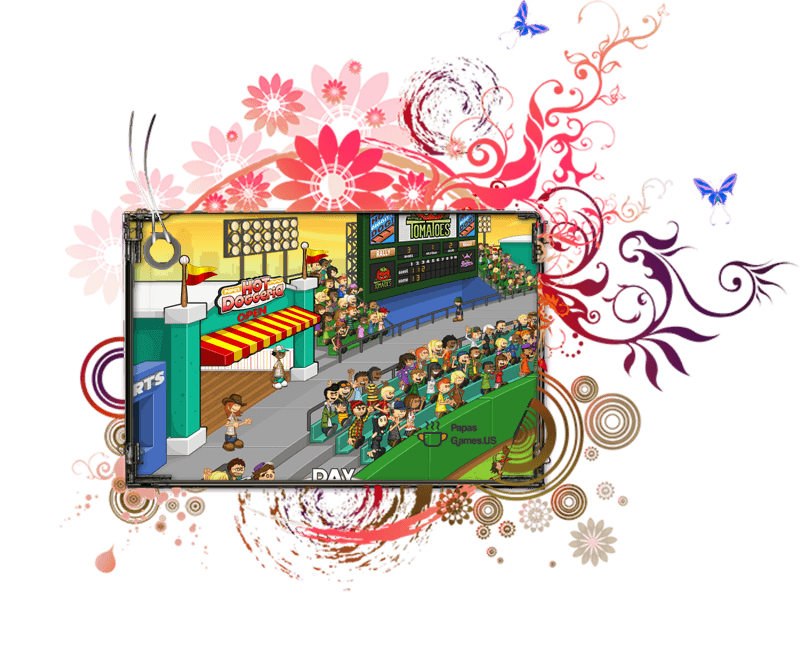 Papas Hot Doggeria – Plus Papas Pop Corneria?
Nothing new and special except the pop station in the game, at first the game seems to be very similar to the rest of the series. However, Papas Hot Doggeria is the game with most features, lots of things to do in it, prepare the main meal – which is a hot dog, then working with toppings and then serving drinks and popcorn. The game is quite entertaining, perhaps little better than most of papa's game series. Enjoy Papa's Hot Doggeria and don't forget to share in on your Facebook wall.
Papas Hot Doggeria

,
Tags: cooking games, flipline games, papas games, restaurant games