Follow Interactive Tutorial To Learn How to Play Pancakeria
One of the oldest games from the series – Papa's Pancakeria by Flipline Studios. Papa Louie's Newest restaurant where you have a privilege to make the most delicious pancakes and waffles as well as French toasts in the town. As usual Papa Louie is nowhere to be seen so again, you are stuck running the restaurant alone.
Cooper & Prudence Run Pancakeria – More Flip-Deck Toons
Enter your name and gogo! Customers are waiting. By the way, one thing Flipline art producers are good at is the exterior drawings, they always look amazing like in Papa's Pancakeria game. Interior on the other hand always looks the same, except for the kitchen part obviously. Speaking of kitchen, you get o explore it's content right in the beginning of the game, before you start serving customers. There's Grill Station where you cook your pancakes; Build Station where you stack pancakes and add toppings and 1 more station which is locked from the beginning, probably a surprise for papa's games fans.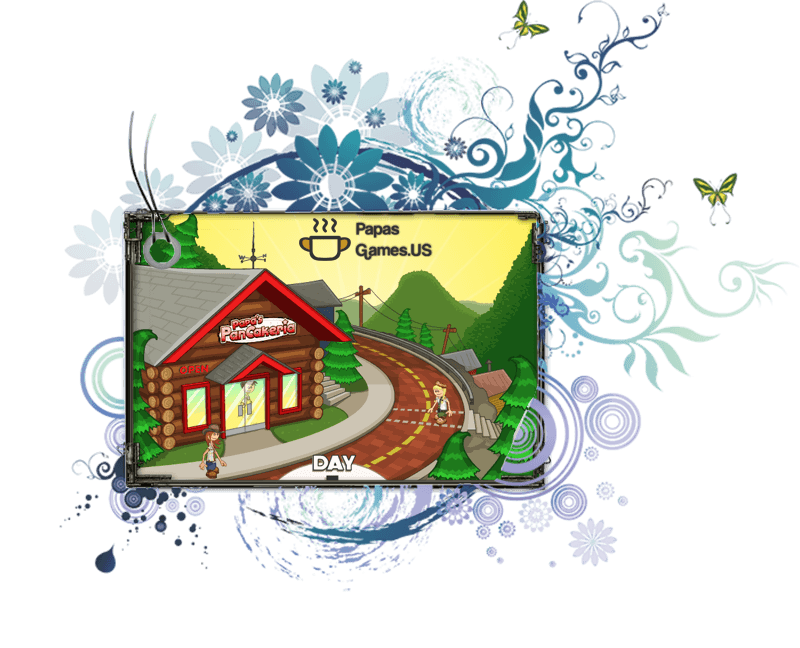 As usual, you're fist customer is a part of interactive tutorial, so write down the order and move back to the kitchen. For the first order you'll need to cook 2 pancakes so drag the ticket to the side hook and prepare for the show. Go ahead and drag the batter onto the grill to start cooking pancake. Watch the flip meter, shows how a pancake is cooked on each side you'll know when to turn them over and then and wait for the other side to cook. Take pancakes off the grill and move on to the build station. Delicious things are going down in build station; Now, it's important to stack items on the plate exactly like how customer ordered: first thing to do is to add both pancakes. First order says you need to add 3 butter pads; so drag the butter pads onto the pancakes. When you release toppings they will land on the marked symbol. Like most papa games, in Papas Pancakeria some toppings are poured across, so drag a cup of blueberries over the stack, and then add some blueberry syrup just like with blueberries. Pancakes are ready to be served. Good luck and have fun playing Papa's Pancakeria.
Papas Pancakeria

,
Tags: cooking games, flipline games, papas games, restaurant games