Same Game Mechanics as in All Papa's Games.
If you're wondering why is it not called Papa's Tacoria, it's probably because it sounds stupid… well, not that "Papa's Pancakeria or Burgeria" sound any less stupid but still. Taco Mean is relatively new, guess, Flipline guys got bored putting word "papa's" in just about every game and decided to bring some innovation…. Well at least when it comes to the game name… So, behold Papa's Taco Mia!
Game that Sounds Like Papa's, Smells Like Papa's, IS Papa's but it Doesn't Sound Papa's
Flipline says, Italian chef (possibly Louie) was successful with rest of the projects and now decided to go for the coolest Taqueria in the world, name it Papas Taco Mia. Don't expect anything special except the food you make, because everything to the slightest details is similar to rest of the games from the series. With exception that you're not able to create your own toon, guess flipline guys thought it would be slightly difficult to place that character onto their "FlipDeck". Nonetheless, you're about to be tortured by the same intro and in-game tutorial like with rest of the Papas Games and then you jump straight to the Taco Mia restaurant.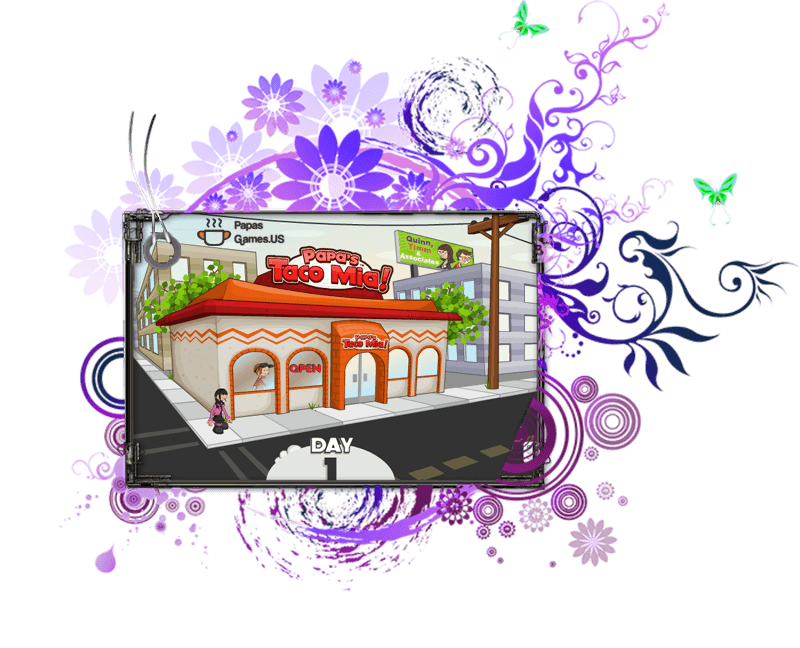 Not much stations this time, only 2 actually, not including the order station of course. So we got Grill Station and Build Station. Funny that this time the game will tutor you without you taking any orders from customers. Guess Papa Louie decided it wasn't the best choice to practice on customers, so you're alone in the kitchen and learn how to make the most awesome Taco in the area. On second thought, once you're introduced with Grill Station and Build Station, you're going to have to take orders before you proceed. So write down your very first order and get back to the kitchen. Your first order needs beef for a taco so drag a pan of beef onto the stove. Watch the timer ring around each pan on the stove. Blue timer will show when its time to turn over the beef and you'll also get a message when its cooked. Move on to the Taco Mia Build Station to add some toppings. Adding toppings to Taco is easy, simply drag ingredients from the topping bin and release the mouse above the taco. Use the ingredients from the order ticket only. Wrap it up and the Taco is ready to be served.
Papas Taco Mia

,
Tags: cooking games, flipline games, papas games, restaurant games